IRYStec is a dynamic tech startup based out of Montreal, with the goal of changing the way we experience displays to a healthier alternative. Because of the smartphone revolution, younger age groups are exposed to screens earlier, and often used for educational purposes in early childhood development. Due to the well documented risks and dangers surrounding the prolonged viewing of screens, IRYStec has developed a solution for this very real and challenging issue facing our future generations.
Because displays are viewed under rapidly varying lighting conditions. People often strain to see and correctly interpret the content in these extreme conditions because our eyes see colour and contrast differently depending on ambient light, age and other factors. IRYStec Perceptual Display Platform (PDP) addresses this perceptual challenge.
Through its eye friendly perceptual software, IRYStec is advancing display technology for mobile, automotive, virtual reality and mobile app markets. Refining the viewing experience by reducing eye strain, improving visibility, increasing safety for drivers and saving power on any display based devices.
With IRYStec's software deployed into these markets, harmful side effects from overviewing such as insomnia, eye strain and fatigue can be significantly reduced.
Who started the company? Do you / team members have tech background?
IRYStec goes back to 2013, when Tara Akhavan, a second-year PhD student attending the Vienna University of Technology, was presenting at a conference around high dynamic range (HDR), where her work caught the eye of who would be the company's first investor, Montreal-based TandemLaunch.
TandemLaunch enticed Akhavan to go to Montreal and build a small team to develop this technology to make digital displays healthier. From there, intellectual property was developed, and she brought on Afsoon Soudi as cofounder and VP of research and development. "I had a software background, and I wanted complimentary co-founder on hardware side." Toward the incubation process, IRYStec brought on Simon Morris , CEO, and final co-founder to handle the business aspects. "We knew we wanted a more senior person, and I wanted to focus on technology strategy."
Bios: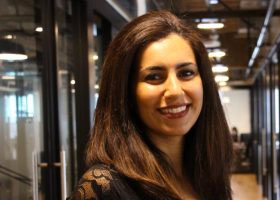 Tara Akhavan (CTO, Co-founder & Product Mgmt.)
Tara Akhavan is a technology entrepreneur with a PhD in computer vision and an MSc in Artificial Intelligence. Prior to founding IRYStec, she has been awarded for scaling an Operations and Maintenance Center (OMC) product in the Telecommunications industry from analyze and design to deployment in a 3GPP mobile network with 20 Million subscribers.
Afsoon Soudi (Co-Founder & VP New Technology Development)
Afsoon Soudi is a dedicated technologist and entrepreneur with a Ph.D. in Physics. For her achievements, she has been recognized with awards from the Material Research Society and American Vacuum Society. She has also been actively involved in organizations including SPIE promoting women in science and technology.
Simon Morris (CEO)
Simon Morris is a high technology business leader with more than 25 years of experience primarily focused on building businesses based on signal processing technologies. Prior to joining IRYStec, Mr. Morris was the CEO of CogniVue Corporation which was a pioneer in the licensing of embedded vision processor technology IP until Freescale Semiconductor acquired CogniVue in 2015.
How are you being financed?
IRYStec is a venture capitalist funded company with investors that include: BDC capital, TandemLaunch, and Angels from the Montreal and Ottawa network.
What do you think will be / is a big obstacle to overcome?
Because we are a small company developing a new product, handset manufacturers are reluctant to become the first to release a smartphone using this emerging technology. It's a question of either becoming the new innovator or remaining a follower. Because of the damaging effects of screens we can say that the early adopter will be the first socially responsible OEM.
How do you go about finding good developers / IT guys for your company?
We create an a dynamic and highly collaborative working environment that motivates and empowers every member of our team. Working closely with our research team as well as our international collaborators on cutting edge technologies, our highly skilled developers are creating new solution for various industries. This brings in the best talent to us.
Who is your biggest competition?
Apical, MiraVision.
How are you intending on taking your company to million dollars in revenues? In what markets?
Once we start being integrated into the High volume phones (not the premium models) for smartphones & tablets. We are working with a dozen or so handset manufacturers, of which more than half a dozen are in detailed evaluation stage of our smartphone technology.
What is the big lesson you've learned (success or failure) with this project.
Cycle time and turnaround time in the handset space is volatile and unpredictable as well as automotive design and evaluation happening faster than expected.